Why BNI?
Structured Networking
Unlike casual networking events that leave too much to chance, BNI's systematic approach was a game-changer for me. Weekly meetings with a formatted agenda ensure that everyone gets a chance to speak, listen, and connect. This regularity instilled a discipline in my networking efforts, something sporadic meet-ups couldn't provide.
Exclusive Representation
The policy of allowing only one person per professional specialty in each chapter resonated with me. This exclusivity eliminated direct competition, allowing me to relax, learn, and grow with others, rather than viewing them as threats.
Referrals, Not Leads
Before BNI, I was inundated with leads—potential contacts that might (or might not) need my services. BNI's model is structured around referrals, ensuring that the business opportunities coming my way are warm and far more likely to materialize into actual business. This subtle shift from leads to referrals meant I received genuine, ready-to-proceed business opportunities.
Learning from Diversity
BNI's diverse mix of professionals created a pool of expertise that helped fill gaps in my own knowledge. The chance to mingle with people from different sectors offered fresh perspectives, innovative ideas, and cross-industry opportunities that I wouldn't have found within the echo chamber of my field.
A Culture of Giving
The philosophy of "Givers Gain" is the heartbeat of BNI. It's not just about what I could extract, but what I could contribute. This culture shift from self-serving networking to a community-focused approach changed how I viewed business connections. By actively contributing to others' success, I inadvertently set the stage for my growth.
Relationships, Connections & Friendships
When you invest your time and energies, you can and will develop some of the most amazing relationships and connections that build awesome friendships potentially around the world. I have met and aligned myself with some incredible professionals in many different industries across the world.
Accountability and Support
Joining BNI was like gaining a professional family. The group's support made me accountable, pushing me to network smarter and aim higher. Whether I faced business challenges or needed advice on personal growth, my chapter was an unexpected backbone of support.
Global Network
With BNI's international presence, I wasn't confined to local opportunities. I became part of a vast, global network of professionals. The international connections, ideas, and collaborations still continue to broaden my professional horizons.
Reflecting on my journey, BNI has been more than a networking move. It's been a growth engine, impacting my business practices, mindset, and professional trajectory. For anyone seeking more than just business cards and small talk, BNI offers a unique blend of structured, supportive, and reciprocal networking that can redefine your professional world.
These are some of my take-aways from being a BNI Member for the last 4 yours. We didn't have a chapter in North Bay 4 years ago so a small group of us came together and built it. It took us 8 months and 20 members to be able to formally create a chapter in North Bay. Awesome relationships with incredible people were started and continue to this day.
If you want to learn about BNI and see if it's a good fit for you, hit me up here for a Zoom call to discuss. 
Gold Badge Member

Super proud to be recognized as a Gold Badge Club Member which means: BNI members who go the extra mile in building their chapters by sponsoring six or more professionals into the organization who subsequently become BNI members. Super happy to help so many other local businesses see the benefits that applying the Givers Gain Philosophy can have on their business. It's all about "removing your Bib and putting on your Apron" and serving others.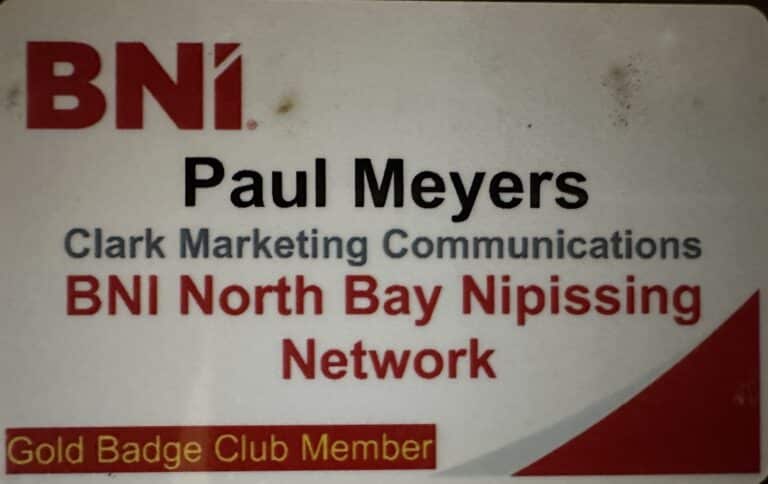 If you are a BNI Member and would like to do a 1-2-1 here is my gains profile and the calendar booking link you can use. 
I would love to learn about your business and see how we can work togther to bring you more value.